Black Cat i Sideline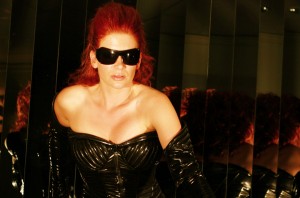 Fick ett mejl från Sideline Magazine som gjorde mig för jävla glad. Det är ju när allt kommer kring det största webmagazinet som finns i Lip Service elektroniska värld. Framförallt blir jag nöjd med att vi
knytit till oss Calle Nerwrak i produktionsteamet till kommande plattan. Vilken hyllning till killen!
LIP SERVICE : BLACK CAT REVIEW SIDELINE MAGAZINE
8/10
Lip Service is a Swedish duo, which released a promising debut-cd "Copy Kill Original" in 2007. They now strike back with a hard and danceable maxi featuring 5 songs. Driven by hard, bouncing bass drums Lip Service is definitely danceable. The sounds are hard electronic structures with melodious parts emerging to the surface. Some harsher and noisy guitar riffs have been added on top, creating a kind of experimental input. The female, sexy vocals will definitely convince any reticent subject listening to this maxi. Louise and Andreas Jismarks have achieved a real meaningful release with the outstanding "Model Actress Whatever" and "Never Let Me Down Again" (Depeche Mode-cover) as absolute hits. This band has definitely a future and keeping on this style it could even become a bright one!
LIP SERVICE : BLACK CAT REMIXED REVIEW SIDELINE MAGAZINE
7/10
This maxi comes as a kind of bonus to the excellent "Black Cat"-Mcd. It starts with a phenomenal remix of "Model Actress Whatever". The original version of this song was already a power-bomb, but this remix by the Swedish Nerwrak is even better and more club-minded! Nerwrak also did a remix of the "Monkey See Monkey Do"-cut, which is tough one, but really well crafted as well. Both remixes of "Gato Blanco" are less convincing although quite interesting. The "Deuter9"-remix brings the original version with an extra club bounce. Finally comes the "chuck Dread Remix" of "In Black", which is not the best one! Lip Service here confirms with "Model Actress Whatever" to have an excellent electro piece that can improve their popularity and fame.
Polls

VCMG

Stort! Spännande! (58%)
Kul för dem. men inte många andra. (32%)
Jag har aldrig brytt mig och tänker inte börja nu. (7%)
I don´t care anymore (4%)

Loading ...

Senaste kommentarerna

Annat

Länkar

Sök