Tony Blair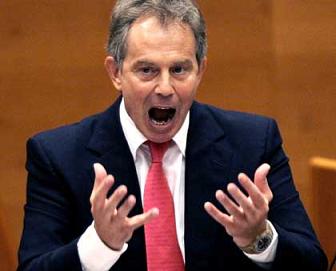 ..och denna fina bild avslutar serien av bilder med den före detta premiärministern. Det fanns också ett lager med Tony Blair & Bob Geldof, Tony Blair & Bono, Tony Blair & Dave Stewart, Tony Blair & Spandau Ballet samt Tony Blair & The Blair Witch. Men nu har jag dragit gränsen.
Jag önskar er läsare en ljuv, trevlig helg, sup & svälj och allt det där. Ni var mer än nånsin tidigare den här veckan –skiiitroligt! kommentarer och antal läsare ökar definitivt min vilja att ösa på med kollaps!
Nästa vecka julröjer jag på med vansinne, det blir inget för er under femton vårar; håll i edra stråhattar och följ med på yttermera galenskap som inkluderar:
* En till synes död Fredrik Käll, självuttalad medlem i the Neon Judgement
* En machete, en affisch, ett DJ-set, 300 råsyntare & firma Monell/Jismark
* Achtung Achtung Alarm Alarm, Spock & deras flickvänner & en skål med chips
Cheers!
Warning
: Cannot use a scalar value as an array in
/var/www/html/superautomatic.com/public_html/wp-content/plugins/yet-another-related-posts-plugin/includes/related_functions.php
on line
80
Warning
: Cannot use a scalar value as an array in
/var/www/html/superautomatic.com/public_html/wp-content/plugins/yet-another-related-posts-plugin/classes/YARPP_Core.php
on line
1870
Warning
: Cannot use a scalar value as an array in
/var/www/html/superautomatic.com/public_html/wp-content/plugins/yet-another-related-posts-plugin/classes/YARPP_Core.php
on line
1870
Warning
: Cannot use a scalar value as an array in
/var/www/html/superautomatic.com/public_html/wp-content/plugins/yet-another-related-posts-plugin/classes/YARPP_Core.php
on line
1870
Polls

VCMG

Stort! Spännande! (58%)
Kul för dem. men inte många andra. (32%)
Jag har aldrig brytt mig och tänker inte börja nu. (7%)
I don´t care anymore (4%)

Loading ...

Senaste kommentarerna

Annat

Länkar

Sök